SLOW COOKER ASIAN SHORT RIBS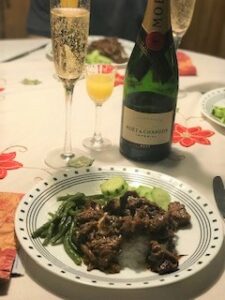 INGREDIENTS
5 lb. bone-in beef short ribs, cut crosswise into 2-inch pieces
Salt, Pepper, Garlic Powder for seasoning
1/2 c. Braggs Liquid Aminos (or low sodium soy sauce)
1/2 c. water
1/4 c. light brown sugar
1/4 c. rice wine vinegar
2 tsp. sesame oil
1 tsp. Chili oil
4 Carrots, medium, peeled and large chop
1 yellow onion, medium dice
5 cloves garlic,chopped
1 1/2 inch piece ginger, peeled and thinly sliced
Vegetable oil for browning meat.
Toasted sesame seeds, for serving
Cooked short grain white rice, for serving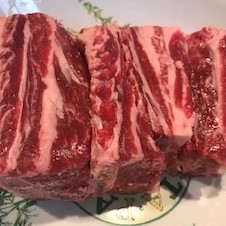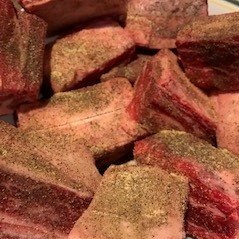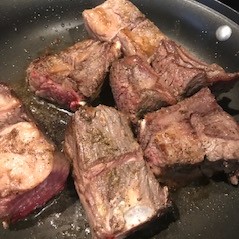 PREP
Season short ribs generously with salt, garlic powder, and pepper. Heat about 2 tbspn of oil in a large pan over medium-high heat. Working in 2 batches, brown short ribs on all sides. Transfer short ribs to slow cooker and pour drippings from pan.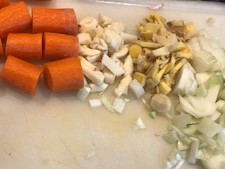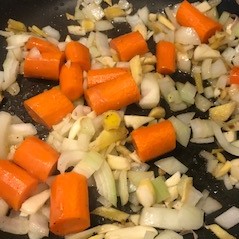 Whisk liquid aminos (or soy sauce) , water, brown sugar, rice wine vinegar, sesame oil and chili oil.
Add carrots, ginger, garlic, and onions to pan, and cook, mixing occasionally until browned. Remove from heat and add to slow cooker. Deglaze pan with sauce mixture, scraping up any brown bits. Pour this mixture into the slow cooker.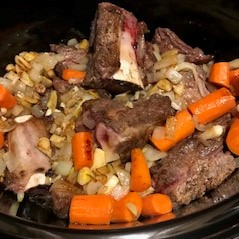 Cover slow cooker and cook on low for 9 to 10 hours, or on high for 4 to 5 hours, or until the meat is very tender and falling off the bone. Remove meat from cooker and pull meat apart (large shred) remove bones. Spoon sauce, carrots, etc. into a blended. Puree until smooth. Add back to slow cooker. Put meat back. Place meat and spoon sauce over meat and rice. This may also be served with wide noodles instead.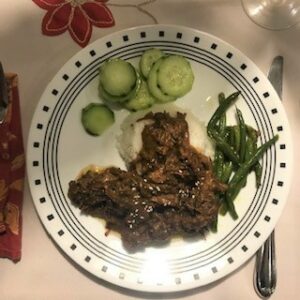 Garnish short ribs with toasted sesame seeds. Serve with side of garlicky green beans and cucumber salad.