All things good and green! Spring Soup.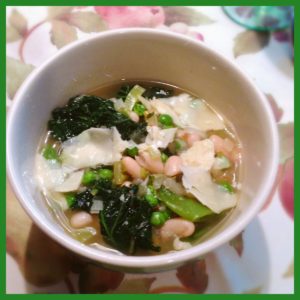 And yes, my sweetheart made this, too. Hint leave good eatin' food magazines around the house….eventually your man will take a look and…tahdah…super tasty dinner! – and extra lovin' for him 😉
Ingredients for Soffritto
1/4 cup olive oil
2 medium onions
3 medium leeks , white and pale green parts only, finely chopped
3 celery stalks finely chopped
Kosher Salt
(use the extra soffritto in an egg strata)
Ingredients for Soup
1 tablespoon olive oil
4 sprigs of thyme
1 bay leaf
4 cup low sodium chicken stock or water ( or veg. broth)
6 oz sugar snap peas trimmed and cut cross-wise
1/2 small bunch Tuscan kale ribs and stems removed ( I prefer escarole or chard instead of the kale…your choice).
1 14 oz can Cannellini beans rinsed
1 cup shelled fresh peas ( petite frozen will work here, too)
Salt & Pepper to taste
Freshly shaved Parmesan Cheese
Crushed red pepper flakes.
Recipe adapted from Bon Appetit Spring Minestrone Verde.
Preparation
Make soffritto first. In a large skillet heat olive oil, cook onions, leeks, and celery until soft. Stir often. Season with salt & pepper.
Then in a large pot, heat oil for soup add thyme, bay leaf and1/4 cup of soffritto. Stir often. Until fragrant. (save soffritto for another use – can store in freezer for 1 month). Add stock, bring to a boil, then simmer. Add sugar snap peas, cook until tender, add peas and kale (or chard or escarole), cook until wilted. Add salt, pepper, red pepper to taste. Serve in large bowl. Add shaved Parmesan and a slice of crusty bread.