Stuffed Italian Long Hot Peppers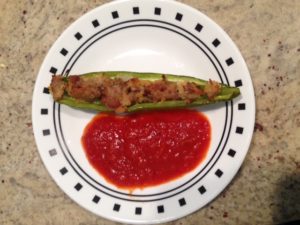 Ingredients
8-10 Long Hot Italian Peppers (mine were fresh picked from my garden)
1 lb Sweet Italian Sausage* (removed from casing)
2-3 cloves of minced garlic
1 small onion diced
1/ 4 cup Seasoned bread crumbs
½ cup Grated Parmesan Cheese
Olive oil for sauté
*skip the sausage and it'll be vegetarian or use turkey sausage if you prefer.
You can use Cubanelle if you prefer less heat.
Preparation
Wash and slice the peppers the long way. Remove seeds.   Sauté  the garlic, onion and sausage in pan.  Drain any fat from sausage when fully cooked. Mix garlic, onion and sausage with breadcrumb and cheese.  Stuff peppers.  Bake in oven at 350 degrees 20 -30 minutes. Place on parchment paper or put on rack in sheet pan. Serve with your favorite marinara sauce.  Jar is fine J
Can be served immediately or reheated with no problem.