Vodka Mmmmartini for 2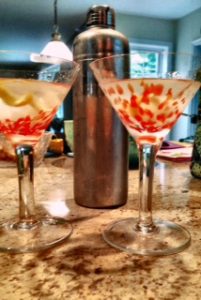 This is nice to share with a friend.   Or not and just have two for yourself!
Ingredients & Prep:
4 oz of your favorite vodka ( I like Belvedere)
¼ oz of vermouth
¼ oz of *Lillet Blanc
Lemon Peel
Tipsy Cocktail Onions (Sable & Rosenfeld vermouth soaked onions can be found online or at your local grocer – stop & shop near me carries them…find them next to the mixers)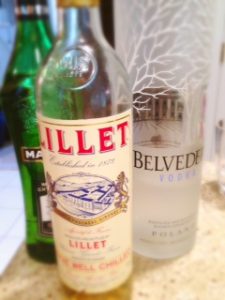 Add all to shaker with ice. Shake vigorously. Strain into chilled glass, garnish with a lemon twist  be sure to twist it into your cocktail) and a few tipsy onions.  And enjoy.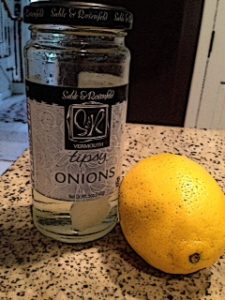 I like the tipsy onions….they are soaked in vermouth.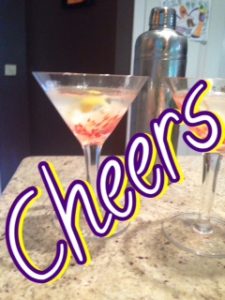 *So What the Heck Is Lillet???
Lillet is an appertif and should be served chilled.  Buy a bottle and keep it in the fridge. Check out the Lillet website for more Lillet Recipes.  http://www.lillet.com/intl-en/
Hisory of Lilet ( according to Wikipedia) In 1872, the brothers Paul and Raymond Lillet, distillers and merchants of wines and spirits, founded their company La Maison Lillet in Podensac, south of Bordeaux, France. The idea of making aperitifs in Bordeaux came from Father Kermann, a doctor who left Brazil at the beginning of Louis XVI's reign. Back in France, he settled in Bordeaux, where he produced liqueurs and fortifiers from plants such as quinine. During that time, Bordeaux became one of the most important places for the European wine business.[1] It was also France's main harbour for products imported from the Caribbean Islands.
At the end of 19th century, people developed a great fear of illness as a consequence of the discoveries made by Louis Pasteur (1822-1895). Nevertheless, "Wine", Pasteur said, "can be considered with good reason as the most healthful and the most hygienic of all beverages". As a result, tonic wines (with quinine) became very popular as quinine was used to fight fevers and ease malaria symptoms.
In 1887, Pierre and Raymond Lillet created Kina Lillet. Originally Blanc, when all other aperitifs were red, Lillet was the only aperitif from a specific geographic location, one of the most famous, the Bordeaux region, or more precisely Great Sauternes region (at that time Sauternes was covering appellations that are now considered as Bordeaux or Graves's appellation).
During the 1920s, Lillet exports greatly increased in Europe and Africa.[2] The brand became famous in France, especially thanks to advertising campaigns.[3] Lillet was served on transatlantic liners, part of the reason for its success with the high society in New York. In New York Lillet was used to make cocktails.
In 1962, Pierre Lillet, grandson of Raymond, keen to capitalize on America's growing taste for red wine, created Lillet Rouge for the American market.
AND TO TOP IT OFF..YOU LEARNED SOMETHING!