Tacocat Message of the Day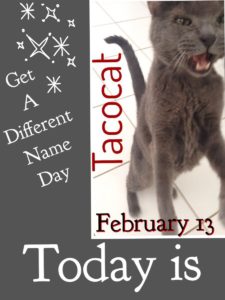 February 13 is Get A Different Name Day.
Ever wonder what your last name means? 
Check out what your first name means.
And if you don't care for your name….today's the day to get a different name.  Or if you want to find out what your stripper name would be click here.
Mine would be Kitty Skiz! My husband's would be Mean Dean Down Under.
Roxy would be Honey Berry and Charley would be Sparkle Baby.
  By the way, Tacocat is not our cats' name.  They are Roxy (gray)  & Charley (mustache)
And we are grateful not have one of these funny sounding bird names.