Baked Stuffed Onions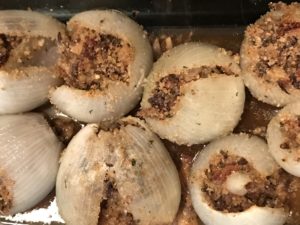 Ingredients
* 4-6 medium yellow onions
* 2 bacon strips
* 1/4 – 1/2  cup dry  seasoned bread crumbs (use gluten free if you wish)
* 2 tablespoons butter
* 5-6 mushrooms  sliced fresh ( I used baby bella – use any kind you like)
* 1/4 teaspoon salt
* Dash of cayenne pepper
* 1/2 cup beef broth
Prep
In a  saucepan  bring a small amount of water to a boil. Peel onions and gently place onions in boiling water.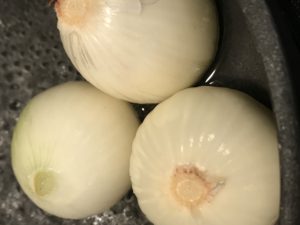 Cook for 7-10 minutes more until softened; remove and let stand until cool enough to handle. Cut a 1/4-in. slice off the top of each onion. Remove center, leaving a 1/4-in shell. Chop remaining onion and  set aside. In a skillet, cook bacon until crisp; remove to paper towel to drain.  When bacon is cool chop into little bits.  Add onion, mushrooms, and bacon to the dripping and cook.  Add 2 tablespoons of butter and then add in the breadcrumbs.  Mix together.  set aside and when cool enough to handle stuff the onions.   Place onions in greased baking dish.  Add beef broth.  Put in oven at 375F for 30 minutes.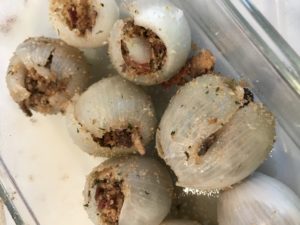 Makes a nice side to any kind of roasted dish – beef, pork, chicken.