Swiss Chard, Sausage, and Roasted Broccoli over **Rigatoni with a Cream Sauce*
I love being part of The Farm CSA and getting our basket each week.  One of the best parts ( besides super delicious food) is being challenged to make something with ingredients.  And it exposes my kids to good, quality food and new veggies.
This recipe can be ** GF option or * Dairy Free option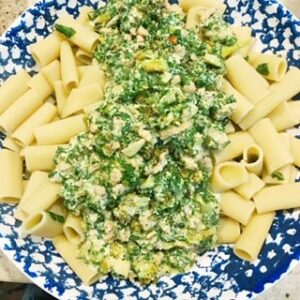 We used most of the CSA veggies we picked up at The Farm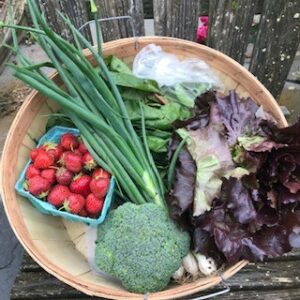 Ingredients
1 lb ground sweet chicken sausage (remove from casing)
3-5 small spring onions cleaned and finely chopped (use white only)
3-4 cloves of garlic finely chopped
1 bunch of chard cleaned, blanched & finely chopped
1 head of broccoli roast, then chopped
¾ cup grated pecorino or parmesan cheese
4-5 tablespoons butter
1 ¾ cups of whole milk
2-3 tablespoons olive oil
1 lb of whole wheat or semolina pasta (I used Rigatoni)
Salt & pepper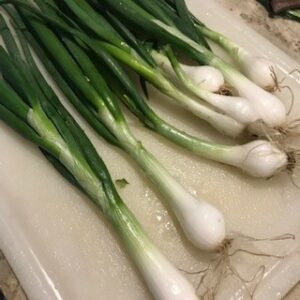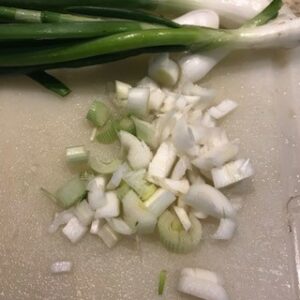 Prep
Wash & Prep your veggies.
Break/Cut broccoli into little florets. Toss in 1 tbspn of olive oil add salt, pepper, and 1 clove of chopped garlic. Place on baking sheet and roast in oven at 350 for 45-60 minutes. When done set aside. When cool enough to touch roughly chop with knife. This will be added to the sausage & chard later.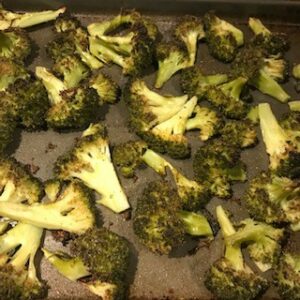 In large saute pan add 2 tablespoons of olive oil. Add chopped onion and chopped garlic (use 2-3 cloves). When translucent add the crumbled sausage and cook thoroughly. When finished set aside.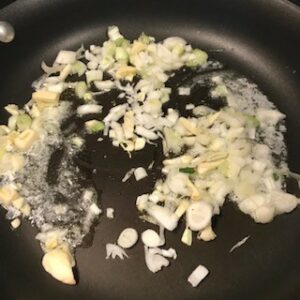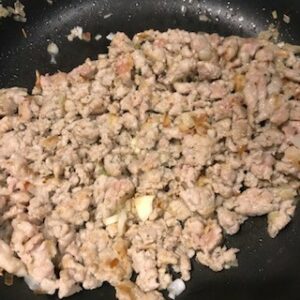 Blanch the chard in salted water for 5 minutes. Remove and let sit in a large colander and drain. When cool enough to touch chop into small pieces. Should be small as if you were chopping parsley. Add to sausage, broccoli, garlic & onions mixture.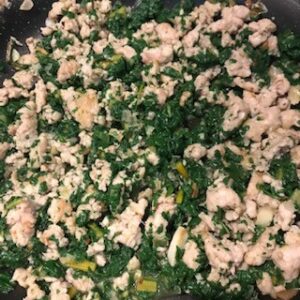 In a sauce pan, while pasta water is boiling, add the butter to the pan on medium heat. Add the milk slowly and whisk into butter. Gradually add the cheese to the milk/butter. Add some black pepper to the mixture. Set on low heat and stir often. It will thicken.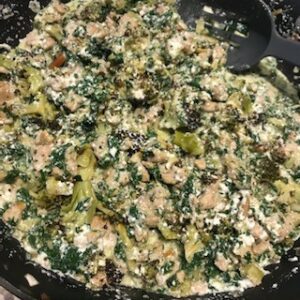 I used the same water I blanched the chard in to cook the pasta. Reserve 1 cup of pasta/chard water in case the sausage & sauce mixture thickens. Add some additional grated cheese when plated. You can top with some finely chopped pine nuts or walnuts, too.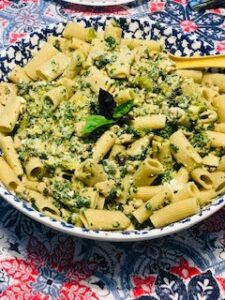 The combinations of chard, roasted broccoli, sauce, and garlic reminds me of something between a broccoli rabe & sausage dish and pasta with pesto. Super delicious and great for a large group. Can be served at room temperature if your planning a buffet party.
* You can skip the sauce & cheese and just use Olive Oil & Garlic for the sauce if you want to make it *Dairy Free.
**Use gluten free pasta if you are avoiding gluten in your diet.