MOVE YOUR BODY
Move Your Body
We often resist what we need the most and in most cases I can read minds and yes you are avoiding a variety of exercise and/or not putting it as a priority… right? Yes!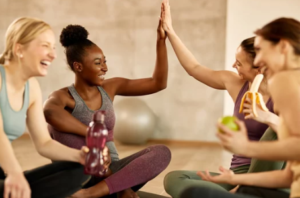 A good variety looks like a mixture of both high and low intensity exercises to not only slow the nervous system down but to get our sweat on and get that metabolism doing its thang.
Mix your week up with cardio, weight bearing exercises and something light like yoga to get an overall central nervous system tick of approval.
Here's a little example:
M – Pump class or free weights
T – 60 min fasted power walk
W – Hump day Yoga or Pilates
T – 30 min HIIT training, maybe hill or stair runs
F – Pump class or free weights
S – Yoga or Pilates
S – Rest up
CHECK out this link  below from WebMD letting you know the best and worst exercises and tips to help avoid injury.
BEST & WORST EXERCISES https://www.webmd.com/fitness-exercise/ss/slideshow-best-worst-exercises
Always consult your Dr. before starting something new.