Slow Cooker Beef Stew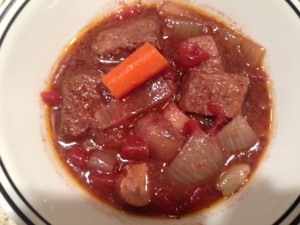 Ingredients
• 1 large can diced tomatoes
• 1 large package mushrooms (cut in ½)
• 3 cups beef broth
• 2 cups red wine ( I love the Alexander Valley Cab for this recipe)
• Make sure you use a good red….the one you like to drink.
• 2 onions large chop
• 4 large carrots large chop
• 4-6 cloves of garlic chopped
• 2 lbs stew meat
• Salt
• Pepper
• Flour
Prep:
Season meat with salt and pepper. Coat lightly in flour. Sear in Pan and put aside.
In slow cooker add, broth, wine, tomatoes, onion, mushrooms, garlic and carrots. Add meat. Cover and cook on high for 4-5 hours. Add more salt to taste before serving.
Serve with crispy French bread or over large egg noodles.
Tastes better the next day.