Arugula, Roasted Sweet Potato & Wild Rice
Ingredients
1-2 cups of cooked, cold wild rice (always good for leftover rices)

1-2 sweet potatoes, dices and roasted

1 can chickpeas rinsed & drained

1-2 cups of roasted, salted cashews or hazelnuts

6-8 dried apricots, chopped

6-8 cherry tomatoes, halved

Small bag of arugula, rinsed and dry

Lemon vinaigrette dressing 
How to Make
Peel, dice and season the sweet potatoes (cayenne, salt, pepper, garlic powder) drizzle with olive oil and roast in the oven 400 degrees for 20-30 mins.  Until fork tender.  Remove and let cool to room temp.  ( BTE these were hard to resist …every time I walked past the sheet pan, I had to grab a few and toss them in my mouth!!)
Toss chickpeas in olive oil, red wine or white wine vinegar, salt, pepper, & garlic powder. Let sit for as long as potatoes roast and cool. 
Prepare the dressing or purchase bottled.   Your choice.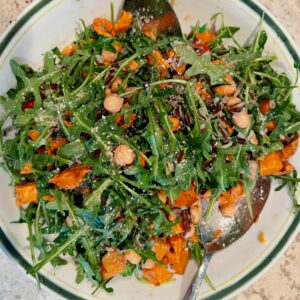 Place arugula in a large bowl, add your cold, cooked rice, potatoes, chickpeas, apricots, nuts and tomatoes.
If you are bringing this salad to a BBQ or party , you can put the dressing on the bottom of the bowl and toss when you are ready to serve.  Or bring dressing on the side and drizzle and toss. Sprinkle a bit of coarse, kosher salt on top. 
This was a pretty hearty salad.  We had it Memorial Day weekend with some BBQ chicken and it hit the spot.  Great make ahead salad!