Black Bean and Corn Salad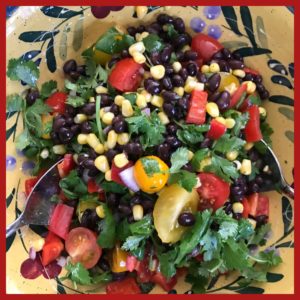 Ingredients
1 can black beans rinsed (15-16 oz)
1 cup of frozen corn thawed
1 bunch of cilantro
2 cups of mixed medley of sweet tomatoes
¼ cup of diced red onion
½ diced red bell pepper ( you can use orange or yellow, too)
¼ of olive oil
Juice of 1 lime
1/8 tspn cumin
Salt & pepper to taste.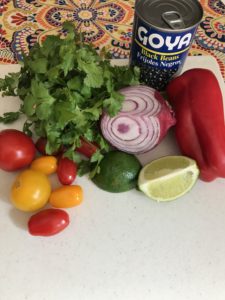 Prep
In a large bowl place beans, corn, cilantro, tomatoes, onion and pepper. Mix dressing (oil, salt, pepper, cumin, and lime juice). Pour dressing over top and toss. Serve immediately. You can add sliced or diced avocado, grilled steak or grilled chicken or a hardboiled egg for a little extra.