Blueberry Crumble Cobbler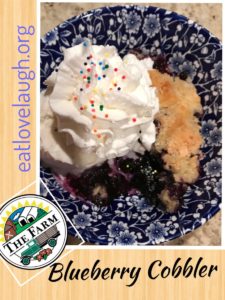 Ingredients
3-4 cups of fresh organic blueberries
Fresh squeezed juice of 1 lemon
Zest of 1 lemon
1 cup of flour
1 cup of sugar
¼ teaspoon cinnamon
1 egg beaten
6 tablespoons of salted butter
Prep
Preheat oven to 375 degrees F
Place blueberries in a 6×10-inch baking dish. Sprinkle lemon juice & lemon zest over blueberries.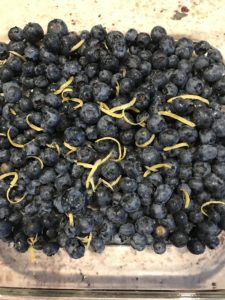 Whisk flour, sugar, cinnamon, and egg together in a bowl until mixture resembles coarse crumbs; spread over blueberries. Drizzle butter over flour mixture.
Bake in the preheated oven until cobbler is bubbling, about 30 minutes.
Serve warm with vanilla ice cream and/or whipped cream.