Garlic Scapes Pesto  with Grilled Shrimp, Peas, & Proscuito over Linguini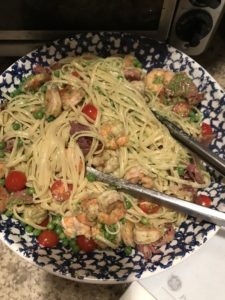 Ingredients for pesto
½

 

cup pine nuts, or walnuts 

¾

 

cup extra-virgin olive oil

 4-5 garlic scapes (or 2-3 garlic cloves)

2

 

cups packed basil leaves 

1

 

cup finely grated Parmesan cheese

½

 

teaspoon kosher salt, more to taste
Prep for Pesto
Place nuts in food processer.  Pulse 10-15 seconds.  Add some olive oil.  Add chopped garlic scapes and pulse 15-20 seconds. Add some more olive oil.  Add garlic if you like a little more.  Add basil leaves and pulse 15-20 seconds.  Add remainder of olive oil and pulse 10-20 seconds.  Add cheese gradually and pulse 10-15 seconds.  You can add a bit of salt to taste.  And more oil if needed.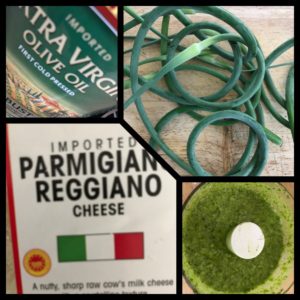 Place aside in bowl until ready to use.  Can be put in the freezer for future use.  Or stored in fridge in air tight container for about 3-5 days.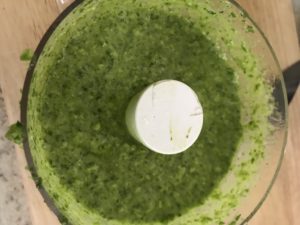 Ingredients/Prep for Shrimp & Linguini
1 lb of linguini cooked al dente
1/2 lb of proscuitto
1 cup of baby peas
1 lb of shrimp deveined.  Toss in bit of pesto and place foil on hot grill. Add the proscuitto.  Turn until shrimp are pink on both sides.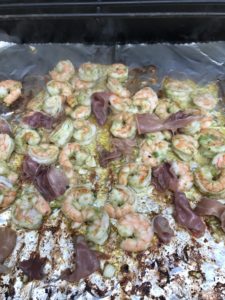 Add fresh sliced cherry tomatoes, peas, shrimp and proscuitto to Linguini, and toss generoulsy with Pesto.